Women in Finance Charter
Our commitment to working to build a more balanced and fair industry
Women in Finance Charter
Our commitment to working to build a more balanced and fair industry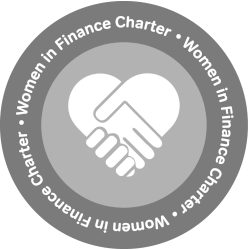 The HM Treasury's Women in Finance Charter reflects the government's aspiration to see gender balance at all levels across financial services firms. A balanced workforce is good for business – it is good for customers, for profitability and workplace culture, and is increasingly attractive for investors.
Secure Trust Bank is proud to be a signatory of the Women in Finance Charter, building on a substantial amount of work already undertaken in the Equality Diversity and Inclusion (ED&I) area which has resulted in our organisation being named a UK Best Workplace for Women and being awarded the Silver Tide Mark by the Employers Network for Equality and Inclusion.
By signing up, organisations pledge to promote gender diversity by:
Having one member of our senior executive team who is responsible and accountable for gender diversity and inclusion;
Setting internal targets for gender diversity in senior management;
Publishing progress annually against these targets on our website;
Having an intention to ensure the pay of the senior executive team is linked to delivery against these internal targets on gender diversity.
STBG targets
Below are STBG targets set in June 2022. Progress against these will be updated by 31 December 2023.
| Measure | Target | Current Status |
| --- | --- | --- |
| Female representation on ExCo by end of 2023 | 30% | 25% |
| Female representation in Senior Management by end of 2025 | 30% | 18%  |
| Females identified in ExCo succession plans by end of 2023 | 50% | 54%  |
| Female participants on Leadership Programmes during calendar year | 50% | 43%  |
| Workforce in part time and compressed working hours by end of 2023 | 15%  | 14%  |
| Management attendance on Everyday Allyship Training in a calendar year | 100% | Yet to commence  |
| % of female participants in mentoring programmes as mentees by end of 2023 | 50% | 66% |
| % of female participants in mentoring programmes as mentors by end of 2023 | 35% | 34% |
Whilst we have made significant progress over recent years, we also know that consistent focus in this area needs to be maintained to achieve our ED&I vision of being a successful, inclusive business where all our people feel respected, can confidently be themselves and fulfil their potential.  Signing the Women in Finance Charter is an important indicator of our commitment and we will continue to regularly review the progress we are making to help us reach our targets.  
More information on this can be found in our Gender Pay Gap reporting and ED&I strategy.